Partner Highlight: Orthocarolina
Monday, June 28, 2021
One of Experience Anatomy's first partners was OrthoCarolina. For a young company like us, having OC on our side is a dream come true. I (Jamie) met Blair Primis in the fall of 2018 and the rest is history.. see the timeline below.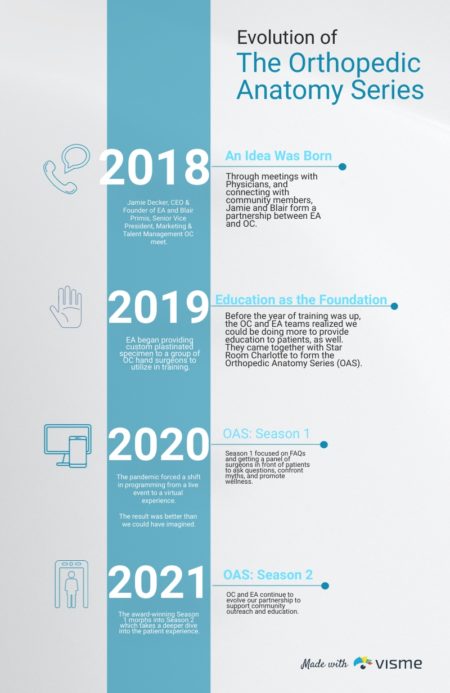 We've had the opportunity to support physician training with the use of plastinated specimen, collaborate on community events, connect with others inside and outside of our industry, and most recently, produce an award-winning series of patient education videos.
The Orthopedic Anatomy Series is a combination of expertise from OrthoCarolina's marketing team along with their physicians and staff, the geniuses behind Charlotte Star Room, and the subject matter experts at Experience Anatomy.
We are so proud of the work that we have created and what else there is to come. Make sure to check out Rachel's guest spot on the OC Blog which will feature the basics of human anatomy, and don't forget to check out our co-branded content on our social platforms linked below.
See the full episode of OAS 2:2 here and find all previous episodes here.